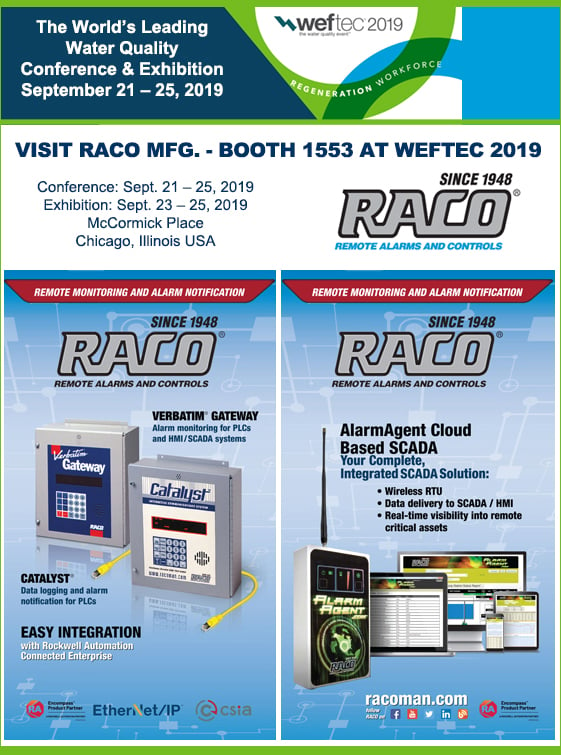 RACO Manufacturing at WEFTEC 2019 – 92nd Annual Technical Exhibition and Conference
1 min read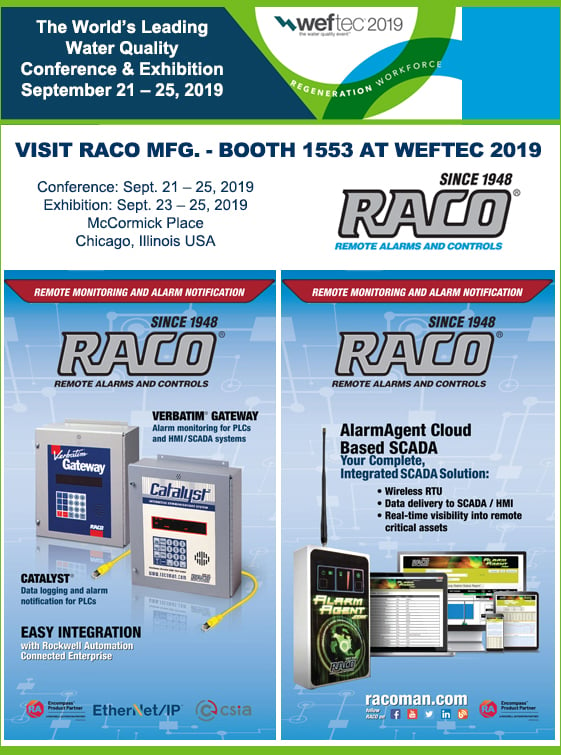 Join us at WEFTEC® 2019!
RACO Manufacturing & Engineering will be at WEFTEC 2019 (Booth #1553), the world's leading water quality conference and exhibition. With the best education and training resources available, the expansive show floor provides unparalleled access to the most cutting-edge technologies in the field; serves as a forum for domestic and international business opportunities; and promotes invaluable peer-to-peer networking among registrants.
Discover how RACO's Remote Alarm and Control systems provide cutting edge technology and service.
At WEFTEC 2019...
Learn about Alarm System Functionality and the evolution of RTU technology.
Discover the past four common abilities of RTU Technology and how new technologies are creating countless new possibilities.
Learn more about RACO Manufacturing's Cloud-based Alarm (CBA) and Cloud-based SCADA (CBS) systems.
Discover the four key factors to help determine the appropriate RTU technology for your application.
Find out about the power of CBS active monitoring and control and its five key advantages.
Join RACO Manufacturing & Engineering at this major event!
Booth 1553
Location: McCormick Place, Chicago, IL
Date: September 21 - 25, 2019
For more information about this event, please call James Brown at 800.722.6999 x222.
Click for more information on WEFTEC.
Join Us for the WEFTEC 2019 Hospitality Event
at SPiN Chicago!


While attending WEFTEC be sure to stop by our exclusive customer hospitality event at SPiN Chicago! Talk to your RACO Representative for more details.
Location: 344 North State Street, Chicago, IL 60654-5411
Date: Tuesday, September 24, 2019
Time: 6:00 - 9:00 PM
Click for WEFTEC Hospitality Event 2019 Information (PDF Format).